Greetings from the UK
Greetings from the UK
Hello!
I am Darshana and I am very happy to be writing for this blog today. I am one of the three UK 2021 graduates, and you can see us in the photo below. We are all based at the Global Technology Centre in Bristol for our first placement.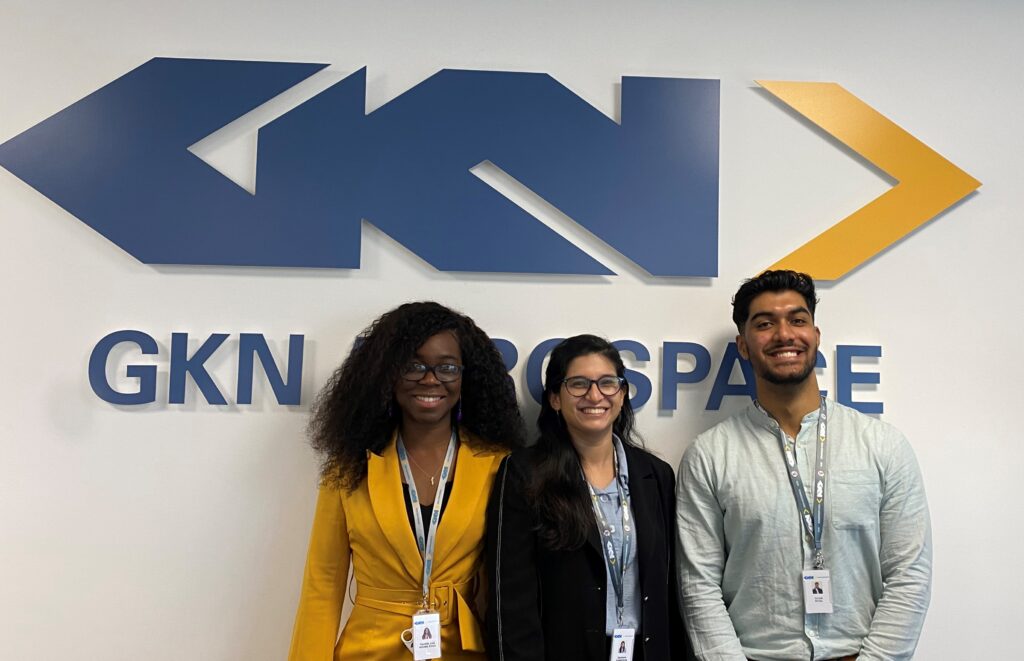 On the left is Danielle. She is from Cameroon and studied an integrated Master's Degree in Chemical Engineering at Aston University. She is currently working in the Horizon 3 Future Flight team on a project, which aims to develop a hydrogen-powered system for UAS (Unmanned Aircraft System). As part of her role, she has been designing 3D models of components that will be combined to form the overall UAS. Alongside her role, she is excited to work with young people as a STEM Ambassador as an advocate for pursuing careers in STEM, notably, engineering.
On the right is Zaryab. He is from Pakistan and grew up in Scotland. He studied an Integrated Master's Degree in Aero-Mechanical Engineering at the University of Strathclyde in Glasgow. Zaryab is currently working within the Future Flight team, and is focusing on a novel eVTOL (electric Vertical Take-Off and Landing) concept capable of transporting many passengers using electric power. So far, Zaryab's favourite part of the programme has been the opportunity to explore a breadth of topics alongside his core project. This has included looking at hydrogen power, supporting with financial studies and working on creating a life-cycle assessment on GKN products as part of the sustainability work streams. He is also exploring the opportunity to carry out STEM outreach with the local community.
I am from Mauritius and I grew up in London. I studied Physics at King's College London. During a summer internship, I had the opportunity to work on aircrafts and it helped me decide that I wanted to work in the aerospace field. I did my Master's degree in Aerospace Engineering at Ecole Centrale de Lyon in France, specialising in composite materials. For my first placement at GKN, I am working in additive manufacturing, specifically on the Laser Metal Deposition by wire cell. It is very exciting to work on this innovative technology, researching new ideas that can be developed into practical applications at GKN. I am really enjoying my time at GKN. It is great to talk to colleagues who are passionate about their projects, and who are always willing to answer my questions. Like Danielle and Zaryab, I am also looking forward to joining the STEM outreach programme.
There are always opportunities to get involved in exciting projects at GKN. Last month, I was asked to take part in the GTC inauguration event. I met the UK Prime Minister Boris Johnson and the Foreign Secretary Liz Truss, and it was a surreal experience! We talked about the graduate programme and I accompanied them to do lay-ups of carbon-fibre sheets for Resin Transfer Moulding. I was impressed to see how well informed Boris Johnson was on composite structures. He asked interesting questions about carbon fibres and their transformation into the strong and rigid structures that are used on aircrafts.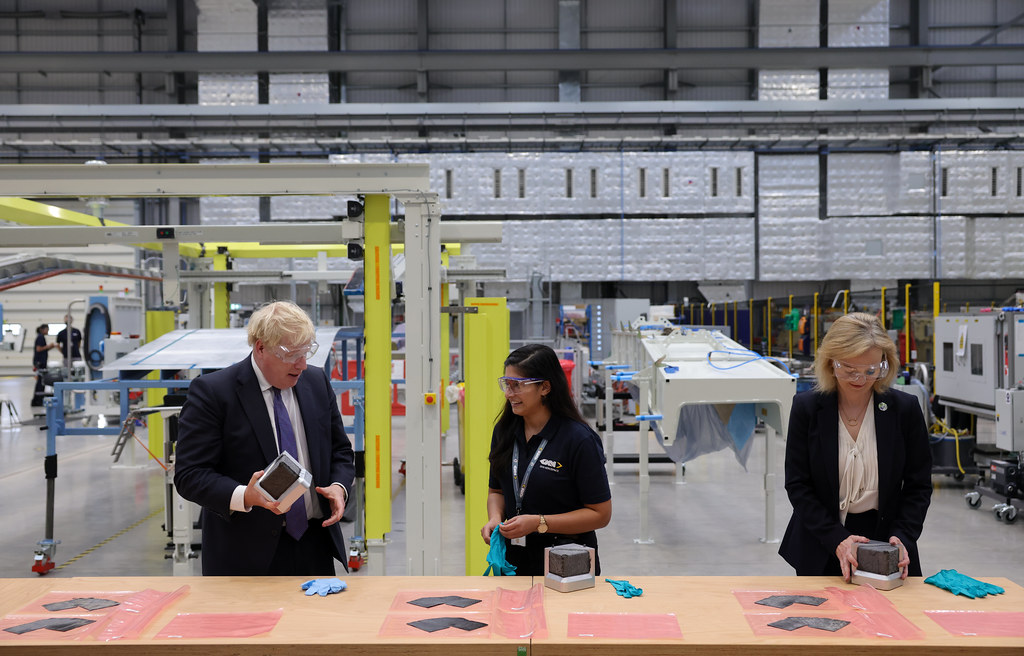 It has been an eventful couple of months and I am eager to see what comes next. I am especially looking forward to finally meeting the graduates from Sweden and the US in-person, after many virtual meetings!
Take care,
Darshana