New year, new rotation
New year, new rotation
Hey!
After a much needed Christmas holiday, we are now well rested and excited for 2022, the year when everything hopefully changes for the better and we will not have to hear phrases such as "due to the current circumstances" and "new restrictions".
Even though we officially started our second rotation a few weeks before Christmas, it has now finally started to gain some real momentum when everyone is returning from their holiday. My new department is rather diverse, and they work with everything from identifying new technologies to managing the company's patents and mapping the effects our products have on the environment. My supervisor works a lot with the latter, and my assignment during the upcoming months consists of two parts. The first part is to create a life cycle assessment on one of our products. A life cycle assessment, or LCA, means that you investigate the life of a product, from raw material to recycling, which you can see in the picture below. This is something we want to create for all of our products here at GKN Aerospace in order to gain more knowledge and awareness about what effects our products have on the environment. I will model this LCA in a software called GaBi, so during these first few weeks of the rotation I have completed a tutorial to try to learn the program since it is completely new to me.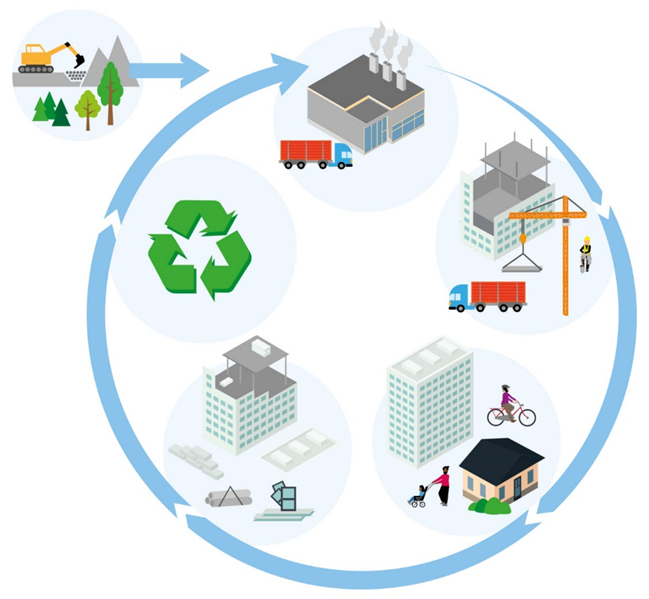 The second part of my assignment is to update a sustainability tool that is used at GKN Aerospace when designing and developing new products and technologies to make sure that the sustainability perspective is not forgotten. The aspect of the tool I am working with deals with materials and material choices. This is very important because we want to avoid materials that, for example, are conflict minerals or that will be difficult to have access to in the future, something this tool is trying to visualize. For this assignment, I have had to upgrade my Excel skills, and I have also tried some VBA (programming in Excel), which has been a lot of fun!
May 2022 be a great year!
/Emelie