Study visit SAAB Linköping
Study visit SAAB Linköping
Linköping is a picturesque city located in the south of Sweden. It is known for its beautiful parks, museums, and historical landmarks. However, one of the most fascinating places to visit in Linköping is SAAB, the world-renowned aerospace and defense company.
Recently, we had the pleasure of visiting SAAB in Linköping, where we had the opportunity to witness firsthand the construction of the Gripen fighter jet. It was an unforgettable experience that we would like to share with you in this blog post.
As we entered SAAB's facility, we were immediately struck by the level of security measures in place. The staff checked my identification and escorted me to a waiting area where we were given a safety briefing. Once the safety briefing was completed, we were allowed to proceed to the factory floor where we saw the impressive assembly line of the Gripen fighter jets.
The assembly line was a marvel of engineering, with machines and tools working in perfect harmony to build these impressive fighter jets. We were amazed to see how the different parts of the jet were put together to form the final product. The workers were all highly skilled, and it was clear that they took great pride in their work.
We were fortunate enough to have a guided tour of the facility by one of SAAB's engineers, who patiently explained to us the different stages of the production process. From the design and construction of the cockpit to the installation of the engines and weapons systems, every stage of the production process was carefully planned and executed.
One of the most impressive aspects of the Gripen fighter jet is its maneuverability. The jet is designed to be highly agile, making it an ideal aircraft for aerial combat.
Aside from the impressive engineering, the atmosphere at SAAB was friendly and welcoming. The staff was always eager to answer my questions and explain the work they were doing. It was clear that they were passionate about their work and were dedicated to producing high-quality products.
In conclusion, our trip to Linköping and visit to SAAB was a memorable and pleasant experience. Seeing the Gripen fighter jet being built was a fascinating insight into the world of aerospace and defense engineering. We highly recommend a visit to SAAB's facility for anyone interested in engineering or aviation. Since SAAB is a protected object, we couldn't take any pictures so here is a nice picture of Arvid and Rasmus enjoying the lovely weather Linköping offered us.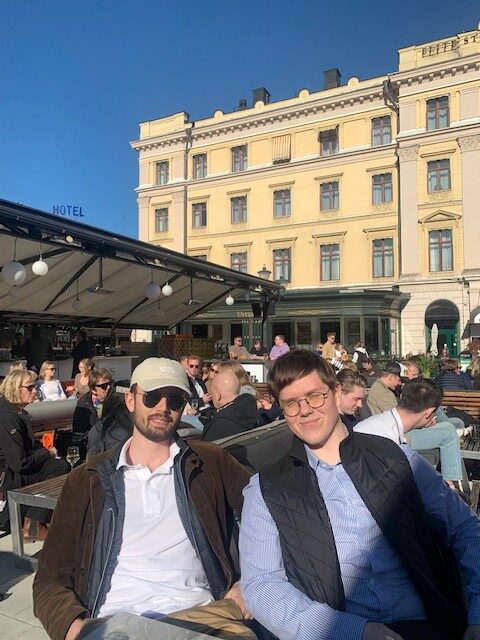 See you soon!