About The Young Graduate Program
About The Young Graduate Program
Do you want to lift your career to the next level?

Now is your chance to apply for the most exquisite graduate program for engineering graduates and economist graduates where you can acquire a unique career start at the cutting edge of the Aerospace industry!
GKN Aerospace is one of the world's largest independent supplier of engine components, structures and special products for the aerospace industry. Within GKN Aerospace we are 18,000 employees stationed in over 50 locations worldwide.
As an independent supplier, we are engaged in partnerships with several of the world's leading companies, such as Ariane launchers with ESA (European Space Agency), the RM12 engine for the JAS 39 Gripen and engines for Boeing and Airbus aircrafts (Rolls-Royce, General Electric and Pratt & Whitney).
As a manufacturer of components for over 90% of all the world's civil aircrafts, we are driven to constantly be at the forefront of technology, environment and safety!
As a company we helped start the industrial revolution – and we're not done yet! We are constantly looking for skilled and curious individuals who want to participate and continue to drive today's global technological development.
We are looking for those who have high social skills, commitment and with a Bachelor of Science or Master of Science in Engineering. Very good knowledge of Swedish and English is a prerequisite.
GKN Aerospace's trainee program celebrates over 30 years of success, where former trainees have continuously taken key roles within the organization. The program aims to give graduates the opportunity for a professional and personal development in a challenging international environment.
You are given a permanent employment from your first day at GKN together with a unique insight into the aerospace industry. At the same time, you are given a chance to influence people's lives by making the world smaller and more accessible. The program length is 22 months, where the first 16 months are conducted in Trollhättan (about 30 minutes of commuting from Gothenburg). Time is divided equally between at least 4 departments within the company, and the program ends with a period abroad.
As a trainee at GKN Aerospace you are encouraged to travel and to meet leading individuals and companies within the aerospace industries in order to create your own unique global network. You will be given the chance to work with Leadership, Product and Production Development, Engineering, Materials, Purchase, Logistics and Quality. The goal is to one day work as a leader or specialist within your area.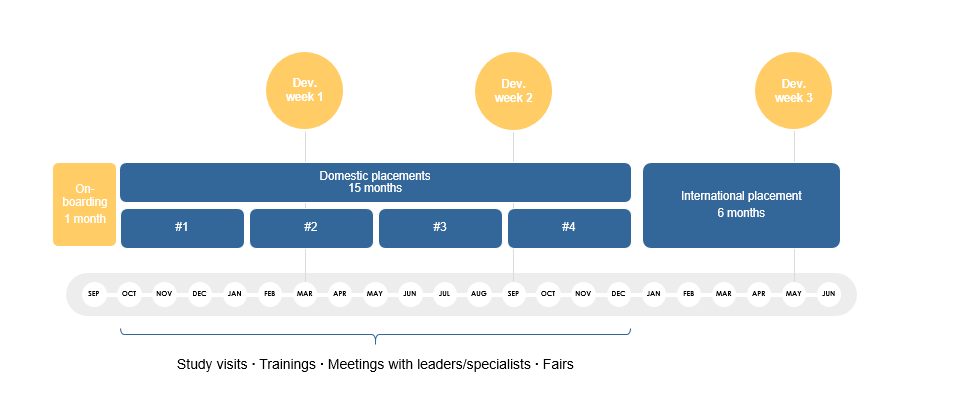 Key Responsibilities
As a trainee at GKN Aerospace Engine Systems in Trollhättan we want you to be interested in working with product- and production development, purchasing, logistics and quality, and have the goal to take on a leadership role in the future.
Qualifications / Experience / Skills
Recently graduated with a BSc/MSc degree in Engineering
Maximum 2 years professional experience after graduation
High level of interpersonal skills and leadership experience in some form
Fluent in English and Swedish, both spoken and written
Large curiosity and appetite for learning new things
Valid work permit for Sweden
Do you want to learn more?
Contact us: aerotrainees@gknaerospace.com