Dennis Persson
Dennis Persson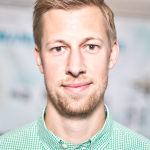 Master of Science in Industrial Engineering and Management with focus on Innovation Management
My name is Dennis Persson and I was born in 1989 in a small community called Vara, which is located in the southwest part of Sweden. This is also the place where I attended high school with specialization in electrical engineering.
After completing high school I went on working as an electrician for a year before deciding to get back to the school bench. My growing interest for business and entrepreneurship made me choose a different path so I applied to the Industrial Engineering and Management program at University West, which I completed in three years. Yet, with knowledge in the field of industrial management I felt the need for further specialization so I applied to a master's program at Chalmers University of Technology in Gothenburg. Here I spent the last two years of my education at the Management and Economics of Innovation program with focus on innovation management. During my two years at Chalmers I also had the pleasure to study in New York City, which was a fantastic experience. This also gave me the opportunity to work with a diversified group of people which was extremely beneficial for my development.
I have always been interested in the aerospace industry and particularly the development of airplanes. Therefore applying to the young graduate program at GKN Aerospace was an obvious choice. Yet, my journey unlike the other graduates engineers will look a little bit different as I am participating in the international graduate program were the majority of the program is conducted abroad (approximately five years). One major benefit is that I am given the opportunity to work within all GKNs operational areas (Aerospace, Driveline, Land Systems and Powder Metallurgy) and to explore the world.
During my leisure I enjoy working out, spend time with friends, play golf, explore the stock market and of course spend time with my girlfriend.