Gustav Söderberg
Gustav Söderberg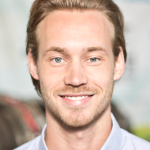 B.Sc. Business Administration with specialization in International Business with Master in international Business MIntBus
Welcome to my personal presentation. Below is information that I hope will make you get to know me better but also to students and future students to give inspiration.
It is with great pleasure that I undergo GKN's trainee program. My career within the GKN began back in 2005 when I went to their school education, by this time the owner was Volvo Aero. I have since -08 worked full time as well as during studies in various departments.
My name is as you already know Gustav Soderberg, I was born in Värmland but raised in Trollhättan. Värmland is where I go when I want to relax at the cottage and for hunting.
Sometime during high school I started to get the interest for stocks and the world around that, this has later influenced me in future decisions, such as education. Before I started at Linnaeus University, I did the conscription as amphibian squad leader. From my time in the military service, I learned the importance of cooperation and a group's strength when it cooperates, and the philosophy success before the prestige that still follows me.
When selecting education I was influenced by my aforementioned interest, so it fell naturally on a course path in finance, management and international business. During the university sector I had the opportunities to study and work in Switzerland and India. My Masters I did in Shanghai, China.
I often get the question "what do you study in International Business". So I will give a brief explanation.
Master International Business focuses on strategic planning for international operations and in-depth of the organizational capabilities required for international operations, including specialized functions such as international marketing, finance, HR and management. It also include topics such as imports and exports and intercultural communication, all this with a particular focus on multinational corporations. So you can be sure to believe me that I am more than happy to work at GKN where we have offices, joint ventures and manufacturing operations in more than 30 countries. Since I have an international focus and interest, this is a natural way. I hope to combine with professional life, I see GKN as a part of it. I have four siblings, one in the US and I'm uncle to three kids, so you can perhaps understand that I need to move away sometimes.