Now that our activity week, when we were out in Europe, has passed and the new year has begun it is time for most of us to make our first rotation and start at a new department. This only applies to the five of us that belong to the local program, and not Malin and David who belong to the global program. They will stay at the same department until they leave for their first assignment abroad.
I have been with the manufacturing engineers working with space and military during my first rotation (10 weeks). It has been lots of fun to be that close to production and I have seen and done quite a lot during this time. I have been a part of a development project developing the future generations of space nozzles and I have seen what the daily work with the production is like. I have made so-called JTDs. JTD is short for Job Training Document and is a kind of work instruction that can be used as a compliment for regular drawings and work instructions. A JTD has a lot of pictures and explicit explanations to facilitate for someone who has never performed these operations before. One of the JTDs I have made covers a welding operation and as I had no previous experience of welding, I found it very interesting!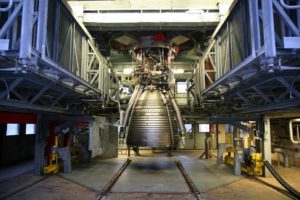 My new department, where I started straight after coming home from our activity week, is with the design engineers. They are ones who makes the drawings and places requirements on products. They are also in contact with both the customer and people from production to make sure the things they do are aligned with the customer needs as well as possible to produce. It is a very exciting world and something I believe is very valuable to have insight into, especially later on when I am working with production. I will also learn the basics of the CAD program NX. I have not worked with CAD since my first year at Chalmers, which is now more than 5 years ago!
It is also time to say goodbye to 2016 and look forward to an exciting and eventful 2017. More experience within different areas at GKN, more company visits and meetings (especially those with the GKN leaders Kevin Cummings and Nigel Stein in February), my first "real" vacation and ending with the assignment abroad!
Happy New Years to you, dear readers!