Cecilia Björsell
Cecilia Björsell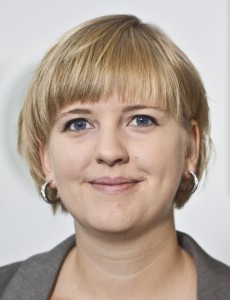 Master of Science in Design and Product development, specialization within Management
Linköping University
I, Cecilia (often called Cissi), was born in may 1989 in Huskvarna. After a safe childhood with the long beach of Vättern, the local ice hockey team HV71 and steep hills, it was time for a change and I moved to Linköping. There, everything was plain, the ice hockey team of LHC ruled and the only water nearby was the small river Tinnerbäcken. Despite this, I enjoyed my time there that I did not only took an Engineering degree in Design and Product development, but also studied business economy and sociology for one year. My lack of interest to sport and ice hockey (despite when HV71 wins the Swedish Hockey League of course) may have eased my change of city.
Beside all the fun you can have as a student, I also had time to be International Responsible in the board of the Association of Mechanical Engineering. There, I got the chance to help Swedish students to go abroad for studies and to help the foreign students to thrive in Sweden. Myself, I studied one year at the French university Université de Technologie de Compiègne, where I was the only northerner among Italians, Spanish, Brazilians and of course French. My French became quite good during those six months since the French teachers were not too fond of the English language.
In 2011, I met my boyfriend and after two years together we bought a small terraced house in the small city Grästorp. This meant that I changed the plains of Östergötland and the tiny river Tinnerbäcken, to the plains of Västergötland and the tiny river Nossan. A Finnish Lapphund (a dog's breed for those who might not have heard of it, imagine a lot of fur!) had also been part of our family. My leisure time is filled with choir singing, walking the dog, drawing, embroidery and knitting. My friends call me an old lady, and they might have a point…
I also do some exercising of course. The plan was to do a "half Swedish classic" during this year (four competitions in 15 km running, 45 km skiing, 150 km cycling and 1.5 km swimming), but my internship abroad will make it hard to participate in the cycling and swimming. So I will have to be satisfied with a "quarter of a Swedish classic". Maybe I will take on the challenge another year.
As a student within Design and Product development, you read a lot of the classic mechanical courses such as math, strength analysis, thermodynamics, static and dynamic mechanical science and many more. As the name implies, this knowledge is complete with courses within product development methodology, industrial design, CAD, project leadership, organizational theory and leadership. The courses have been many and the exams hard, but now I am a newly examined engineer and one of the excited young graduates of GKN 2014/2015!