Joel Larsson
Joel Larsson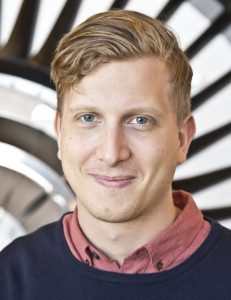 Master in Sustainable Energy Systems with background in Chemical Engineering with Engineering Physics.
Joel is my name, born in 1990 in Gothenburg but raised in the small town Karlshamn in southern Sweden. My youth was characterized by a lust for adventure combined with an overall curiosity. This paved a way for a genuine interest in science and technology, where aeronautics and space were the most appealing. After graduating high school in science I ventured abroad. There, the encounter with different cultures and people contributed to a broader perspective, and brought a sense of humility and confidence.
After a combination of job and travels the choice of further educational training fell on Chalmers University of technology in Gothenburg, where I in the moment of writing just finished my five years of engineering studies, focusing on sustainability, energy technology and flow simulations. My choice of education has not always been clear, and the road to graduation has been characterized by irresolution about my future career.  The will to escape the boredom of the academic environment resulted in several trips, including an internship in India, but also to the mountains of South America and Africa. There one of my major interests, namely mountaineering was executed. To afford my debaucheries while obtaining additional work experience, I worked at Valmet AB in Gothenburg, and Stora Enso in Nymölla.
My master's thesis took me to GKN Aerospace in Trollhättan, a company that I then knew very little about. During one semester, I helped create a program for simulations of temperature distributions during Laser Metal wire deposition. At the same time, I had the pleasure to meet and work with incredibly skilled and determined people, and it quickly became clear that I wanted to stay at the company. To seek GKN Aerospace's trainee program was therefore a matter of course, especially when I in recent days have taken interest in leadership and strategy.
The spare time is devoted to everything from diving to climbing, but mostly to crossfit football, family and friends. Now, I look forward to get to know not only the people here, but also GKN for the high-tech company that it is.