Mikael Ingvarsson
Mikael Ingvarsson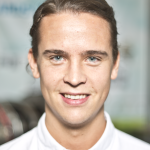 A regular guy with a degree in Mechanical Engineering and a master in Materials Engineering
My name is Mikael Ingvarsson and I was born in 1989 in Gothenburg. My interest in technology probably began growing up and spending too much time with Lego sets from every Christmas. Early, I wanted to go to Chalmers University, but wasn't really sure on which niche of engineering to choose. I started biotechnology, but soon reconsidered. I studied mechanical engineering and took two years off, working in elderly care and at a brewery, studying carpentry and visiting other countries. I wanted to make sure I made the right decision. And it was, my masters program in materials engineering was tiptop!
I finished my education with a thesis work at GKN, where I and a classmate experimented with cutting titanium with water and sand (abrasive waterjet cutting). At the time, I heard of the graduate program and decided to apply. Now I'm here with high expectations and new-found friends.
In my spare time I like doing lots of things. Especially, I enjoy endurance sports or watching films, preferably with my girlfriend. In the blog you'll be able to follow the work and experiences of me and my colleagues during the future year in the graduate program at GKN.