Sofie Helmersson
Sofie Helmersson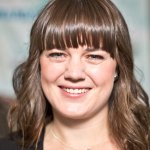 Mechanical Engineer with a Master in Automotive Engineering Chalmers University of Technology
I was born in the fall of 1989 in Vänersborg. My childhood was marked by an interest in music and technology. Many hours were spent either in front of a piano, behind a flute or in the samba orchestra Sereia. The dream of becoming a concert pianist did in time turn into a dream to become an engineer. After high school I worked at various companies in the region. After less than a year the choice of my future profession was even clearer and I began my studies at Chalmers University of Technology within the field of Mechanical Engineering.
The first three years at Chalmers went fast and then the choice of master came up; was it automotive or production that I would like to work with in the future? Finally Automotive engineering became my choice of master. Due to a receding motivation for studying I took 1.5 years of study break to work at Volvo Trucks in Göteborg. I rediscovered the motivation to study again and then finished my M.Sc. with a thesis at Volvo Cars Safety Centre with the development of a rearward facing child restraint systems (trivia: the inspiration for the first rearward facing child restraint is originally from how astronauts are restrained at launch). As I grew up in the region, GKN (at the time Volvo Aero) always attracted as a company at the forefront of technology development. To have the opportunity to get to know the business and get a wide network was for me the main reasons to apply for the trainee program and I find a trainee program as the optimal way to start my career. Here I am now in a, for me, completely new world of great challenges and are looking forward to an informative and enjoyable year as a trainee!
During my free time I like to spend time with family and friends, during summertime in a summerhouse and during wintertime wherever the snow is, downhill or cross-country skiing. As a new resident of Trollhättan (which can be a little sensitive for a girl born in Vänersborg) I keep my fingers crossed for a snowy winter with great skiing in the area close by. But who knows, perhaps you will see me on roller skis in sheer spite if the snow is absent?