A visit to the technological heart of ESA!
A visit to the technological heart of ESA!
Last Tuesday we Graduate Engineers had the great pleasure of visiting ESTEC, ESA's largest facility and the heart of their research and technology, situated in Noordwijk, The Netherlands. For those who doesn't know, ESA is an abbreviation of European Space Agency and is the european equivalent of NASA. We arrived around lunch and was greeted by a few of their Graduate Engineers, with whom we had lunch. After lunch we had a lecture about the history and missions of ESA, followed by a lecture about their technology and developments considering Additive Manufacturing (AM), which is 3D-printing in metal, which is currently a super hot topic in aerospace and space industry. Apart from 3D-printing in metal, ESA are also conducting research on 3D-printing in materials found on the moon. If this can be made to work, ESA could send 3D-printers to the moon to 3D-print a lunar base. This way, the building materials would not have to be freighted from Earth.
After this extremely exciting and inspiring lecture, we received a quick visit by none other than Mr Franco Ongaro, ESAs Director of TEC. Even if he was quite a busy man and the encounter was quite short it was inspiring to get to meet him.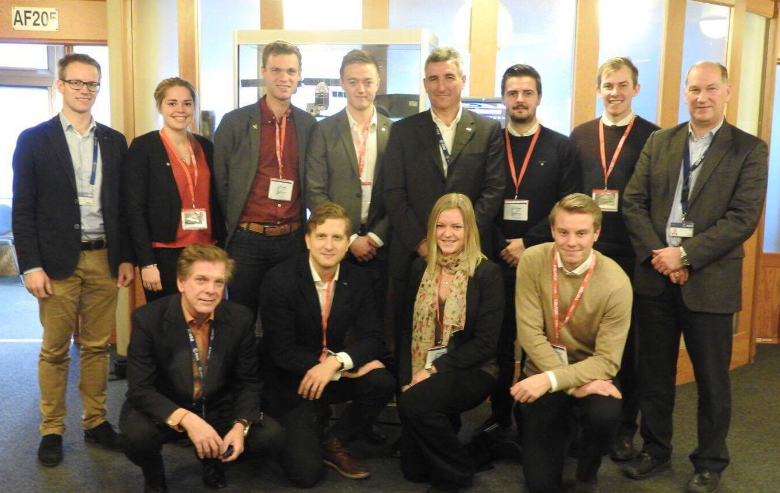 The day continued with a privileged tour around the facility, including among other things:
Their CDF (Concurrent Design Facility), which is a sort of meeting room designed for lengthy meetings including lots of different experts, with the purpose of relatively quickly reach some conclusions on what the practical possibilities of different projects might be.
Their testing facility. Here ESA conducts for example vibration testing, to make sure the developed equipment can withstand the strong vibrations encountered during lift-off. Another example is space simulation, where a satellite prototype is put in vacuum and exposed to extreme temperatures for weeks at a time to make sure the equipment operates as intended in space.
All in all the visit took somewhere between five and six hours. There is not so many times in my life that I've experienced something so inspiring as this visit. However after such a long visit with so much information, we all felt quite tired when we finished up.
Thank you very much for having us, ESTEC!
Over and out
/Joakim Åhman