What's next?
What's next?
There are not that many days left of our second rotation. We will start at our new departments at the beginning of March but we have loads of fun stuff to do until then. On Monday we are going up to Linköping to make a visit at Saab. It will be very interesting as I do not have much knowledge of their work there. I actually did my master's thesis at Saab, but in Gothenburg, and in a completely different division. I am sure we will be well taken care of by their graduate engineers and hopefully learn lots of new things.

We will stay the night in Linköping because on Tuesday LARM is taking place, which is Linköping's Techology Students Career Fair. We will be representing GKN at the fair and I know it will be much fun. Especially for Andreas who studied there. Of course, we hope that many of you readers will come talk to us, maybe we will recruit new blog readers but most of all we hope that many of you guys will be introduced to GKN and tempted to apply for a job here (as a graduate engineer, thesis worker or something else)!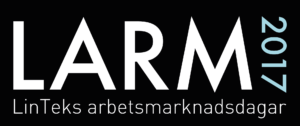 Linköping will be honored by our presence for one more night as we are making a study visit to the helicopter fleet in Linköping on Wednesday! I am not sure what we are doing there (as I haven't been in charge of arranging this visit), so I will not say anything about that. However, I am sure it will be highly informative and fun!
When we get back from Linköping we have a few days to breathe and relax (and work of course) before leaving for England and our great adventure. The trip will be amazing in every way, I am sure, and you will read several posts about this later so I will not tell you anything further right now.
Once we are back from England we will have our final days of group dynamics and self-development. This will be the last thing we do before the work at our new departments starts. I will do my third rotation at a quality department and I hope that I get to try a bit of everything but that I also get to work with long-term development of the production. Once the work is started I will definitely tell you more about what the department (and I) are doing!
Until then – keep reading the blog and come visit us at LARM!