A selection out of the life as a graduate
A selection out of the life as a graduate
Hello again!
One of the projects that we graduates have been involved with in the last few weeks is to support young students with their homework, in collaboration with Intize. Intize is a nonprofit organization engaged in mentoring young students in mathematics. As a part of our year project to stimulate the interest of technology and science among young students, it feels like mathematics is a given cornerstone to encourage that interest. Are you interested in joining, or do you know anyone who might be? Then all you need is to show up, everyone is welcome.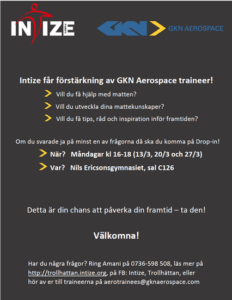 But perhaps more interesting to many of you readers, as you know it will soon be time for the assessment days for the next set of graduates. I thereby thought I should spend most of this post to tell you more about what it means to be a graduate, what you can expect and what you can experience. Those of you who follow the blog perhaps know by now that the program is consistent with different 10 weeks rotations between different departments. As the graduate program currently is 30 years old within the company, there is a lot of internal experience to handle new graduates that enters different departments. And combined with the individual responsibilities and freedom for the graduate to influence the scheme to choose their next placements, the opportunities becomes limitless. Speaking of my own experience, I was with ease able to divide my current period into two five-week periods to broaden my knowledge and internal network as much as possible
But the company's experience of operating the graduate program also shows when you see how open and interested various managers are to meet with the graduates over interviews where they can share their experience and stories. On that subject, we recently had our second meeting with Mike McCann (CEO GKN Aerospace Engine Systems) to learn more about his experiences and viewpoints on leadership, the business, the industry etc. Or to mention another example, it took us less than two days to book 4 senior managers within manufacturing to conduct interviews. This privilege that senior managers are open to share their time in order to share their experiences and lessons learned with us is incredibly valuable. And it feels like a shortcut to valuable information that otherwise would take tremendous amount of time to obtain.
Being a graduate also opens a lot of doors externally, which implies that we have not yet received a single no when we have contacted other companies and asked them to meet for a study visit or something similar. Many times, it feels like the opportunities to create ones external network is just as good as the possibilities to create ones internal network. And with the level of advanced technology that operates within out industry, you can imagine that there are numerous actors that operates all types of different technology, which creates opportunities to learn from each other that are virtually limitless.
To spice this up a little extra, the graduates also have a yearly project which I briefly mentioned at the beginning of the post, were we interact with at least to say unexpected tasks to solve as an engineer. We also undergo leadership training, experience visits from other graduates and schools, go on business trips and external educations and much much more. So to summarize this post, the greatest challenge as a graduate is to get time to suffice, because there is always new things to do and experience. It's thereby lucky to have driven graduate colleagues who constantly collaborate to get the calendar to get together in order to take advantage of every opportunity given to us
See you later