IGP – Week in Stratford upon Avon, UK
IGP – Week in Stratford upon Avon, UK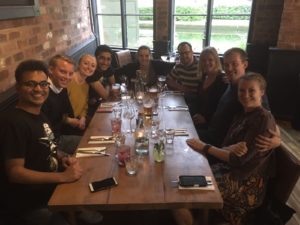 It`s a bit late but I would like to give you a recap of what Malin, Neil and myself did in Stratford upon Avon beginning March (more than learning about Shakespeare). As you guys know by now the three of us are part of the International Graduate Program (IGP). It`s a program similar to the Aerospace graduate program. We`re all encouraged to try different areas within the business like purchasing, manufacturing, commercial, etc. The difference is we`re allowed to work within the whole GKN plc group and our program stretches for 5 years instead of 18 months. If you use the search function you will find a blog-post with more information about the program.
Last year 7 people were recruited to the IGP program. Since we`re 7 people joining an engineering company with close to 60'000 employee with manufacturing locations in 33 countries around the world the opportunities to meet these colleagues are limited. Even modern technical meeting techniques such as Skype are hard to manage over all time-zones.
First week in March we were given the opportunity to finally meet. We all attended a great learning week in Stratford upon Avon. The week focused on Leadership development, presentation skills and networking. To give you a better Idea I will give you a recap of each day;
Day 1: We met up for lunch and had a session were everyone introduced them self. Later the same day we had a session with the HR Director for the Aerospace division. Topics discussed covered how GKN can create a stronger brand and attract more talents around the world. Did you know GKN is partner to Porsche 918 Spyder, Ferrari California and BMW i8? GKN also have a sub-division within Driveline developing world leading racing equipment (Le-Mans 24hours for example).
Day 2; Topic for this day were "Leading yourself". We went through a number of exercises to find out how we as individuals worked as leaders. We also covered different leadership styles in general.
Day 3; "Leading others" was the topic of this day. With the insights from day 2 we took it one step further and discussed different ways of handling a team and/or project. A lot of usable tools were presented and many of these were easy to use and implement in my day-to-day work.
Day 4; "Telling your story". The day started with all of us presenting our stories of how we got to where we are today. The aim is to exceed in you telling skills. If you are able to engage and sell your idea the chances for success is way greater. We had to go through the mental pain of having the presentations filmed to later review it and work on improvements (you don`t want to see yourself presenting, trust me).
Day 5; "Presentations". During the last day we had company from senior managers at GKN. We all presented our stories and the career goals we have. After the presentations we had a good networking session to learn more about the possibilities and opportunities within the different businesses GKN have.
During the evenings we all took the chance of getting to know the colleagues better over some dinner and drinks. Great group of people and I had a blast all week.
Thanks to Sarah Humpidge and Pauline Mullin for making such a great week possible and for flying in people from all over the world. Had so much fun!!!
Ohh… I almost forgot. We had more graduate colleagues nominated by the business joining the IGP training week as well. You can see us all in the picture below.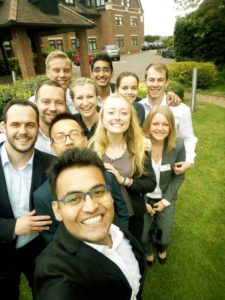 Picture: All participants gathered outside the Stratford Hotel.
From left-back: David Johansson (IGP, Swede), Uppili Srinivasan (IGP, India).
Third row from left: Damian Kolodziej (AM Graduate, German/Polish), Courtney Boehmer (IGP, USA), Emily Pringle (IGP, USA), Neil Irwin (IGP, UK).
Second row from left: Marcel Jordan (Legal/Business Law Graduate, German), Jangbo Xu (Chinese Graduate Program, Chinese), Katie Ziegler (IGP, USA), Malin Radberg (IGP, Swede)
Front: Pratik Dharangaonkar (Powder Metallurgy, India)