Hello world – we have arrived!
Hi there, we are the new graduate engineers and we are the ones who will continue to brighten your day!
On Monday, the 4th of September, we started our careers as graduate engineers here at GKN Aerospace. In this year's edition we are five graduates in the local graduate program at GKN Aerospace Sweden and two graduates who have almost the whole world as their workplace through GKN PLC´s International Graduate Program (IGP). Now in the beginning of our program we have been strengthened in numbers by two American graduates who attend the equivalent graduate program with GKN Aerospace North America. They have just started their international placement here in Trollhättan where they will stay for the next six months.
Shortly we will upload our presentations where you will get an opportunity to get to know us better, but in brief we are:
Local graduates
Alexander Hall
Kasper Janehag
Lisa Markusson
Emma Winblad von Walter
Maria Östman
Global Graduates
Philip Simonsson
Signe Vallin
As many of you already know, the glorious graduate program here in Trollhättan has been around for over 30 years. Flying is an association for both new and old graduates which organizes exclusive events. A very fun part of being a graduate is the strong community that exists between new and old graduates, where many graduates (~ 75%) are still working within GKN. As new graduates we have already attended a Flying lunch and an interactive lecture held last Tuesday by our former graduate Torgny Stenholm, Head of Services and Special Products (SSP), and former graduate in 1988. SSP is one of the two business units in GKN Aerospace Sweden, which includes space and military operations. Among 20 engaged new and old graduates participated with engaged spirits with a lot of reflections and questions which created interesting discussions on the topic. It was a fun and educational event!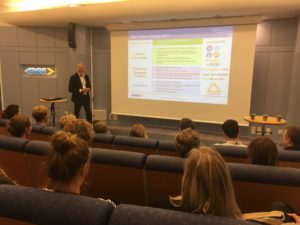 Right now we are doing workshop training in our facilities where we get to learn more about GKN's products and processes, but more about that it in a later post!
Today's Proverb
New brooms sweep best
See you later!
Trainees 17/18