Trip to SAAB
Trip to SAAB
We have been to Linköping again, this time on a study visit at SAAB! The visit was interesting, not only due to my lack of knowledge about what SAAB is doing.
First we were greeted by Emelie and Johannes, two of SAABs friendly young graduates, and introduced through a company presentation. Turns out SAAB is not only manufacturing JAS 39 Gripen, the military fighter aircraft, but works with "security solutions in civil and military applications". And, not just in aerospace but on land and at sea as well. They work with everything from submarines (since 2014 and the requisition of Kockums :O> ) to commercial airplanes, from traffic management to camouflage, from military utilities to prison safety. They do a lot, check out their website and try finding something they don't.
Back to the study visit. Our time there focused on the Aeronautics division, which works with airborne systems, and JAS 39 Gripen (one such system). Therefore, we got an exciting tour of the production and the assembly line of Gripen, passing through single component joining all the way to the finished airplanes. The tour was followed by a presentation of the history and developments of the aircraft, before we were ready to buckle up and take it for a ride. That is, in a virtual environment, a simulation developed by SAAB and enhanced by Rapid Mapping, their technique of digitally reproduce the landscape with high precision from data collected in field (pretty neat!).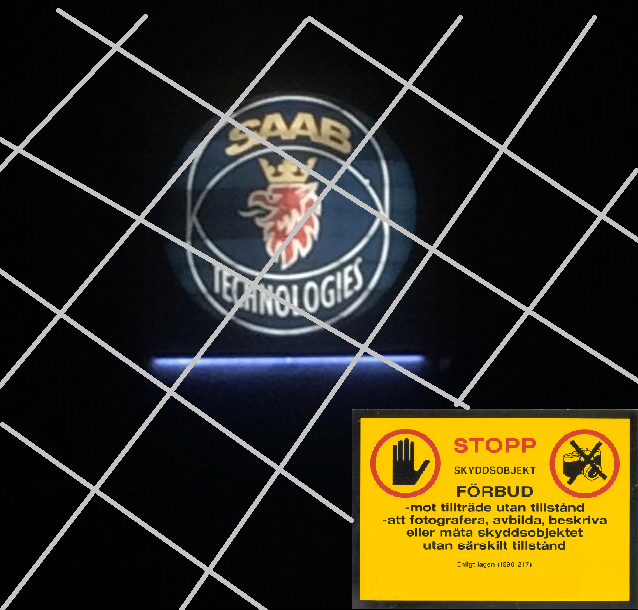 Because the site is a military compound protected by regulations, we weren't able to take any pictures from there. Actually, I'm not even allowed to tell you about the facili
Lit sign in dark Linköping (at least an attempt)