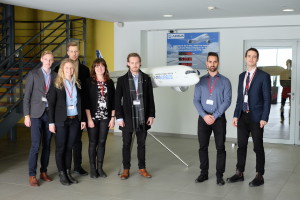 The trainees is back home from a tour in France and England. We have made many exciting visit. Airbus, Filton, Bristol, Birmingham, London, Imperial College and Pall Mall – where we conversed with GKN plc's CEO.
I'll tell you a little more about the Airbus visit. Friday, March 29, we visited Airbus in Toulouse a giant plant which makes the final assembly of newly built aircraft and sell to customers for example Qatar Airways.
Toulouse is the home of Airbus Group headquarters, comprising many support and strategic functions (customer relations, supply management, human resources, marketing, sales & communications, finance and more).
We were well received by Technical Executive Assistant to SVP – Head of A350XWB Central Program Management. We got an update of the A350 program, threats and opportunities. A quick spin of GKN difficulties as a supplier to Airbus in the mentioned program before we went out and looked at the assembly for A350 – 900 / -1000 two different size models. After that we went on a tour in their testing facility where they test software and hardware in simulators. A rig called the "Iron Bird" is a kind of combination test for hardware and software – wings and flight computers.
Toulouse is also a site for many Airbus Group Divisions. It is the production location for numerous Airbus aircraft (including the A320, A350 XWB and A330), has facilities dedicated to cabin furnishing and painting, and is home to the A380's final assembly line and flight preparation. Airbus has a wide range of activities in Toulouse: engineering (general design, systems and integration tests, definition of the structure), structural testing, materials processes development, systems organisation, flight tests, architecture & general design, integration tests and systems, propulsion, structural design and computation as well as aircraft painting and delivery. The Airbus Training Centre also provides many training opportunities of all categories (flight crews, maintenance staff, cabin attendants, and performance and operational staff).
Those who are eager to experience similar things the Toulouse facility has guided tours for tourists.