Activity week 2, part 2
Activity week 2, part 2
Dear World,
After a very exciting week abroad, visiting a vast amount of interesting companies throughout Europe we are finally back at our beloved site in Trollhättan, Sweden. This post will involve various interesting company visits, endeavors and stories about the places we have been at and the things we have seen. The main challenge for me as a finance trainee is to make you and myself understand all the technical terms that we encountered at each of these visits, so I ask you to overlook my lack of expertise within these areas.
So here it goes… When we arrived in the Netherlands, our first visit was to ESA (ESTEC) in Noordwijk.  One of the trainees from our group, Filip Jensen, did his internship at ESA within the Chemical Propulsion section so he managed to set up a very intense but exciting day for us. We indulged ourselves in the futuristic aura that the place gave us. The first feeling that we had when we entered the company grounds was WOW!
Our host for the day was Matthew Smith, a Chemical Propulsion Engineer who gave us the tour around the premises. The first area we visited was the Propulsion lab where an YGT (Young Graduate Trainee) introduced us the complex systems of Electric and Chemical Propulsion. The ESA Propulsion Laboratory is an operational facility in the spacecraft propulsion testing field. I think that many of us thought that this was very cool but we were overwhelmed with the complexity of it, this surely was Rocket Science.
As the tour continued, we approach what in the end happened to be my favorite, the Large Space Simulator (LSS). Within the test center where the LSS is, Satellites must be tested thoroughly before sent into space because satellites are expensive, and once in orbit they cannot be fixed. In this facility we were introduced to all the complex testing that ESTEC does on satellites. It was presented by Grezgorz Izorski, an Electromechanical Instrumentation Engineer. Inside the LSS satellites are exposed to vacuum as well as simulating sunlight, which is about 20 times stronger or more than it is on Earth. Would satellites be sent to Mercury, which is much closer to the sun than Earth, then we could be confident that the satellite would not malfunction.
Furthermore, we were introduced to the Materials Lab by Nathan Bamsey, a Materials & Process Engineer. Here, we were given an overview of the different materials that we use and how they are tested. Also, a vast amount of process are undertaken to ensure stability and robustness for the chosen materials.
In between the different facility visits we were able to meet another Chemical Propulsion Engineer named Chris Hunter. He set up an open forum of discussion, giving us the possibility to ask relevant questions encompassing the industry and the challenges that we have in the future. This visit also gave Filip the possibility to meet many of his former colleagues.
Fokker Landing Gear
The day after the tour at ESTEC, we travelled further south toward Helmond where we visited our sister company Fokker Landing Gear. Our guide for the day was Manuela Snijders, a MRO (Maintenance-Repair-Overhaul) Engineer – New Capabilities & Innovations. I have to say that I have never experienced such a warm welcome than the one we received here, big shout-out to them and everything they arranged for us.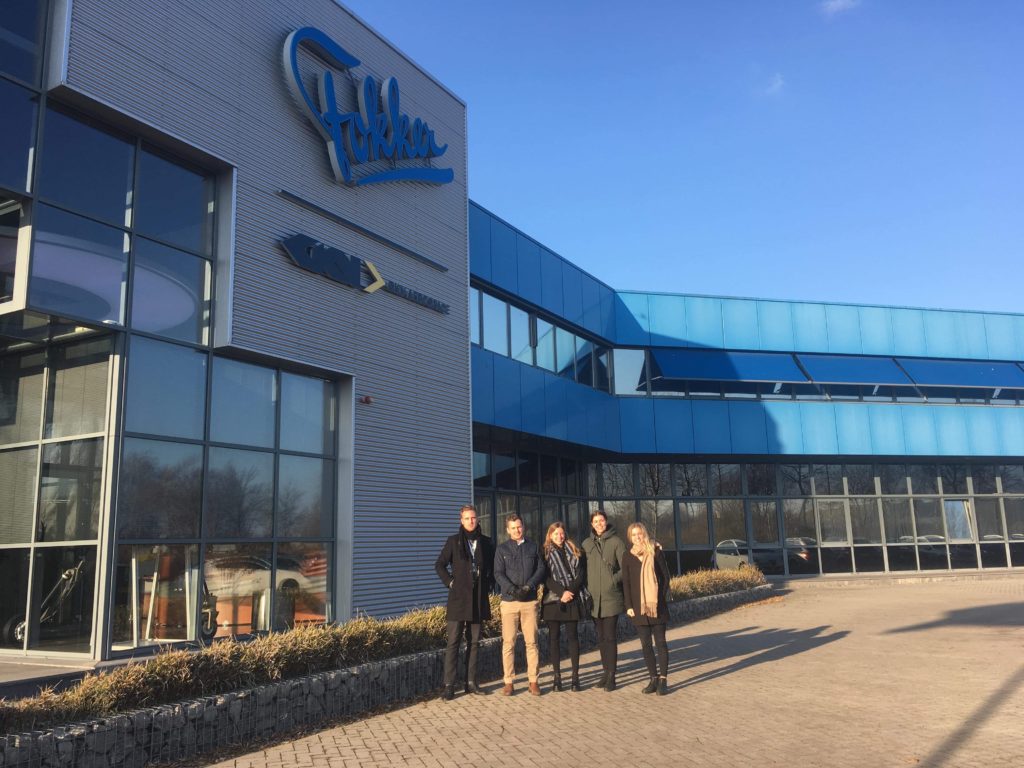 Firstly, we got a presentation of the company as well as the trainee-program that they offer at Fokker. It differentiates a bit from ours but the end product is very much like ours, to develop and sustain young graduates within the company. Additionally, we got a tour throughout the manufacturing plant to see what sort of products they produce. You don't realize how important and advance the landing gears are as well as how much weight they are exposed to. They use a block of metal that weighs about 22 ton and simulate a real-life scenario where the weight is moving 8 m/s onto the wheels. To understand the physics, the block of metal (1/3 airplane) weighs 22,000 kg and moves at 8 m/s toward the ground (which is very fast and unpleasant landing). Making the momentum: 22,000 * 8 = 176,000 kg*m/s. In other words, a large amount of momentum is distributed onto one pair of wheels?!! Hereon, we walked throughout the rest of manufacturing to see their machines and how they produce their products. It was much like our own plant in Trollhättan except for the end product.
Towards the end of our visit, we engaged ourselves with the Fokker employees and former trainees at the plant in a "speed dating" session. Here we got the chance during 5 minutes to engage ourselves in a more in-depth conversation with each individual. We all thought this was a great way of networking to get a deeper understanding of their day-to-day activities. Something that amazed many of us were their way of presenting up-to-date data on screens, involving performance of machines, financial results, health rates as well as working capital
Airbus Space & Defence
For the final stop on our tour through Europe, the trainee group was treated to an inspiring site tour at Airbus Defence & Space in Leiden, Netherlands. While there we were introduced to Senior Systems Engineer, Henk Cruijssen, who taught us about some of the projects and technologies that they work on at Airbus. After a brief presentation, he walked us through a few of their test labs and manufacturing facilities to touch and see the materials that go on their satellites. Before leaving for home, we had a short Q&A with Henk about the aerospace industry and the roles we play.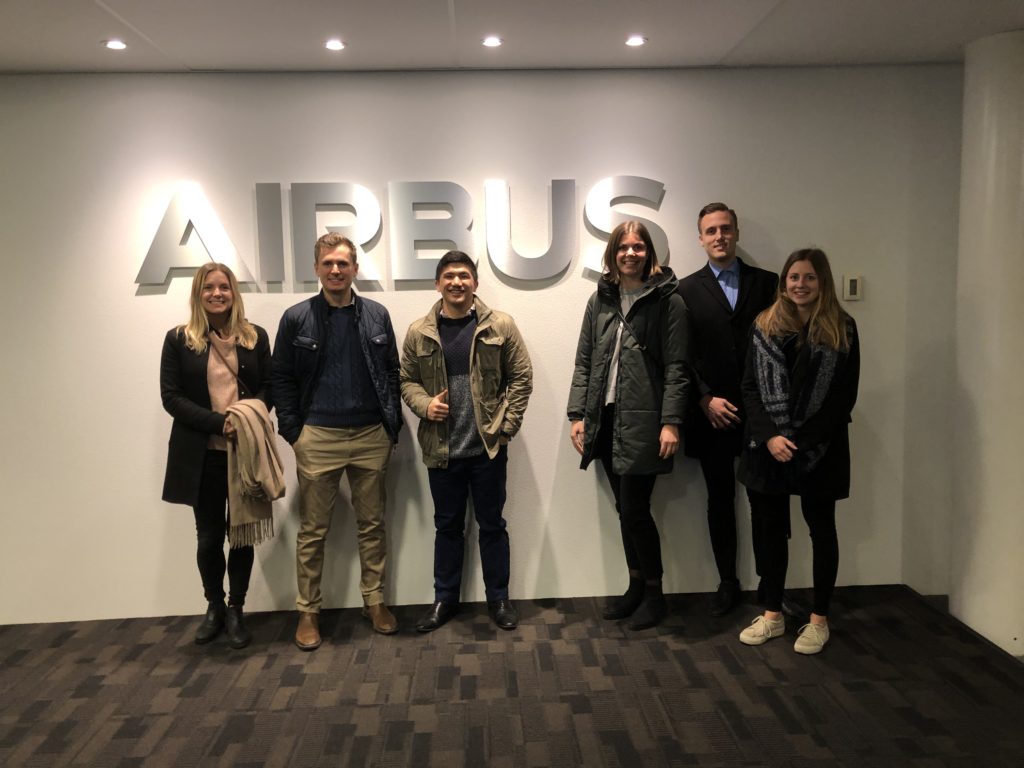 Thank you for this time, and I wish you all the best but more specifically a Merry Christmas & a Happy New Year!!
Until next time.