GAS 5 years, bowling and Quality
On Wednesday GAS (GKN Aerospace Sweden) celebrated 5 years and everyone got treated to the Swedish desert semla. Semla is traditionally eaten on Fettisdagen (Fat Tuesday) which is celebrated in February/March. Eating semla in October is something new to me but considering the strong fika culture here at GKN I shouldn't be surprised. It's almost like Friday fika should get its own blog post someday. In our graduate group Lisa is the one that has, without a doubt, the department with the best Friday fika and every week they outperform us all.
Anyway, it was GAS celebrating five years that I was going to write about. It's been 5 years since Volvo Aero was acquired by GKN. GKN doesn't have as strong brand name in Sweden as Volvo has, for example, my mom explains to friends and family that I got a job at "old Volvo Aero". However, GKN is a large global company with over 58 000 employees, where GAS is actually a very prominent business unit in GKN Engine Systems. We have gone from being a rather unknown part of Volvo to contribute with 'best practice' in GKN, something I find super cool! However, marketing GKN is important and it is something that we graduates get to be a part of through both our graduate project where we meet primary school students and through attending career fairs at universities.
Being a graduate at GKN is very varying, we get to experience many different things from rotations at different department and working abroad to different graduate assignments. A varied job with many possibilities was exactly what I was looking for when I was applying for jobs this spring, and I really feel like I've hit the jackpot. Besides the work and graduate assignments we graduates do a lot of social activities which really contribute to a great sense of belonging and commitment. On Tuesday we were eight graduates who spontaneously went into town after work to bowl and eat. Sarah, an American graduate within IGP, won this time 🙂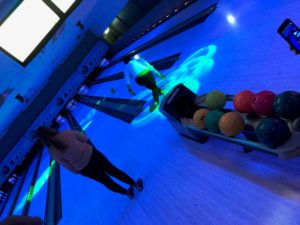 Right now I'm at my home department, Quality, where I manage a project in Requirement Management. I get to learn a lot, from EU environmental laws to IT security. It's both challenging and exciting, a perfect mix! Check out my profile if you want to know more about me and my background.
In my next blog post I will hopefully tell you about my visit to Newington, one of our American Engine System sites, where I will be visiting in three weeks.
/Maria