A visit at Siemens Industrial Turbomachinery in Finspång
A visit at Siemens Industrial Turbomachinery in Finspång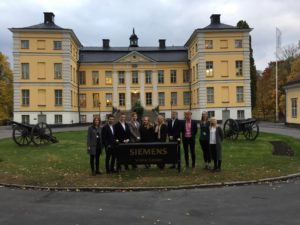 During Thursday last week we had the great pleasure of visiting Siemens in Finspång. Our visit were both informative and fun. The Siemens Graduates showed us their business which was an extra plus. Just like us at GKN they are fairly new as Graduates and have a long and exiting journey ahead of them. As a consequence many interesting topics in relation to the separate program schedules were shared. However, most positive is the fact that both GKNs and Siemens graduate programs are well established within their organizations.
Our visit started with a lunch. At the same time all participants introduced them self and presented their way to become a participant in their Graduate program. After the introduction we were informed about the history of Siemens and there organization. A fun fact is that Siemens is the second largest private employer in the region.
So what are they producing in Finspång then? In Finspång they are producing gas turbines which offers effective power solutions for customer all over the world. Among the customer are hospitals, cities, gas- and oilrigs. As you may guess it is larges turbines they are dealing with. I can personally promise that the size of these turbines and the custom making of them is very impressive.
The similarity between gas turbines and jet engines are large. In a jet engine the power is used to push the engine forward. However in a gas turbine that power is used to power a generator. In that way electricity is created (extremely short explained). In fact Siemens planed on producing jet engines for the Swedish military in the mid-20th but, as you may know that business were acquired by us at GKN (At the time Volvo). As this placed the factory in Finspång out of work a smart person found that, "-aha, there is a market for turbines".
Apart from a very interesting visit at the assembly line we also had the great pleasure of seeing Siemens latest research project, the AM-facility. For all of you who are unfamiliar with Additive Manufacturing (AM), myself included, there are several cool videos on Youtube (https://www.youtube.com/watch?v=R8qFFGfVHks ). In this facility Siemens are able, as one (maybe the only) of the few in the world to 3D-print parts in Inconel. At GKN we are also working with AM. More information about this will be presented in a later blog post. If you can´t wait to then take a look at www.gkn.com/additive-manufacturing .
A big thanks to our great hosts for the day Elin, Lisa and Mathilda. Great recruitments for Siemens!
*Pictures show all participants during the day. In the background Siemens head office called the castle. You may guess why..