Company visits!
Company visits!
Now it is my turn to write a post – great! Our first activity week (which Andreas mentioned in the previous post) has just come to an end. It is during these activity weeks that we, among other things, can visit companies. In the beginning of this week we were in Linköping visiting ACAB (Applied Composites AB) and in Solna visiting SAS.
ACAB is owned by GKN and manufactures various products and components using composite materials. The composite materials produced at ACAB consists of long threads, so called fibers, made of carbon, kevlar or glass and are kept together by different types of plastic. A great advantage with composites is that they are light-weight and that they could well replace metal in many applications. It was fun to see a different type of production compared to what we have seen at GKN in Trollhättan. In particular, the material aspect of the visit was very interesting; to learn more about composite materials and its applications!
After the visit at ACAB, we drove our minibus to Solna where we met Kamran Chohan from the Lean office at SAS. He told us a lot about how SAS is working with Lean and how they are constantly striving towards fulfilling their customers' demands and wishes. We found it very interesting to hear the thoughts and reasoning of an airline. Usually, you are on "the other side", being a customer to the airline. Also, SAS is our end customer as they buy airplanes with engine components manufactured by GKN and so it was interesting to see what happens with the final product. By the way, did you know that in 90% of the world's commercial flights, there are at least some component manufactured by GKN? I think that is really cool!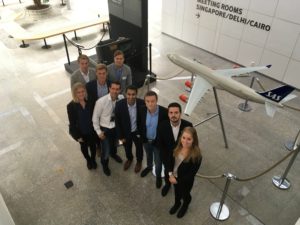 We are very happy with the first two company visits, we learned a whole lot and we look forward to getting to know more companies in the future! What we were up to during the remainder of our first activity week will Joakim tell you in the next post.