An exciting first year and more to come
An exciting first year and more to come
Hello blog!
My name is Lisa Markusson and this is my first post as an new local graduate engineer here at GKN in Trollhättan. My educational background is Materials Science and Engineering at Luleå University of Technology (LTU) and this is where I heard of GKN Aerospace as a company. Luleå University of Technology and its Department of Materials Science have a long and strong collaboration with GKN in Trollhättan due to their use of exciting and high-performing material like titanium and super alloys. Therefore, by the end of my education I applied to GKN and was given the chance to carry out my thesis work within additive manufacturing (AM) during the fall of 2016. Additive manufacturing is an area which GKN is fully committed to in order to be competitive in present and future businesses, but also for a more effective and environmentally conscious production with less waste of material. Please read more at http://www.gkn.com/en/our-technology/2016/additive-manufacturing/.
During the thesis work I was placed at GKN's department for process development which foremost operates from Innovatum and its Production Technology Centre (PTC). Innovatum and PTC is a collaboration between industry and academia in order to push production development forward. My work was focused on characterization of powder for the method of direct deposition of the additive, Laser Metal Deposition (LMD), as well as to find a second source supplier of powder for GKN. The work was great in terms of building a good basic understanding for development of AM which also gave me a continued position as an Process Engineer at the company. This has given me a full year of experience at GKN within process development of AM before I started my new position as an Graduate Engineer.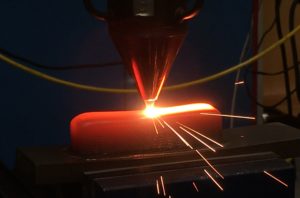 To those readers who are still in the world of academia and thinking of the way forward, I want to say that GKN is an amazing company with cool materials and products, and an exciting business category. Keep a lookout at our website for thrilling thesis works and take the opportunity for an excellent entrance to the company.
My new challenge as an Graduate Engineer will be to broaden my knowledge by rotations at various departments where I will have AM as a common thread. My view on the future is to be a part of the implementation of the process on more products, to continue on what we already have accomplished. Exciting times are to come!
Until next time!
Lisa
*Additive Manufacturing – Collective term for various fabrication techniques whereby material is joined with a layer-on-layer approach to produce a preprogrammed 3D data model.