First time in Sweden
First time in Sweden
Hello again readers! I've now started the last leg of my rotation, 6 months here in Trollhättan.  I landed in Sweden on September 1st and went to a traditional Swedish crayfish party on my first day, a perfect start to my stay here!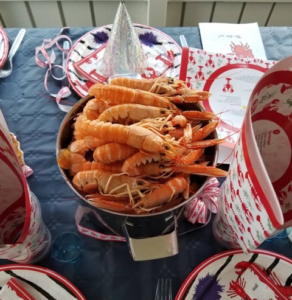 The first few weeks I've been getting orientated to the facility and the local program with the other trainees, as well as learning about what my assignment will be while I'm here.  I'll be working on a couple initiatives we have involving additive manufacturing (AM).  Both involve the technique called Laser Wire Deposition with wire (LWD-w) where weld wire and a laser is used to deposit material.  The plan is that we utilize this technology at my home site in El Cajon, so I will gain experience by working on the initiatives they have here in Sweden.
My main task is to work on initiatives with titanium casings where we currently use a forging or casting in a weld fabrication.  Instead, we want to research the possibility of using LMD-w to deposit material right onto the piece to avoid welding, saving money and time while also improving quality.
One thing that makes this facility much different than my home facility in El Cajon is the existence of Innovatum, a research facility here in Trollhättan that works in conjunction with the local university (Högskolan Väst) and other local companies.  Innovatum allows GKN to test new processes (like LWD) for production readiness.  In short, you wouldn't want to invest money in a process unless you knew it was going to work.  Especially when expensive machines are involved!
I look forward to sharing more about what I'm working on here at Trollhättan, and my life in Sweden.  But it's been a blast so far!
-Nick, American graduate