Debate for girls at Högskolan Väst
Debate for girls at Högskolan Väst
Good afternoon!
Last Friday, Emma, Lisa, Maria and I participated in a debate for girls at Högskolan Väst to discuss about why so few girls apply to educations within engineering. The last couple of years less and less girls have applied to technical educations. The question is why and what can we do to deal with this issue? The participants in the debate were students from secondary school, high school and university together with one headmaster and girls from different companies. This made the discussion very interesting since we had very different perspectives and we believed that the problem starts in early age. The participants had a theory that a lot of young girls have anxiety of performing poorly, which makes them think that they can't manage an education within engineering since it's too difficult. We told the other participants about our graduate project, that we will present to 9th grader what an engineer does and we got a lot of positive feedback for this initiative.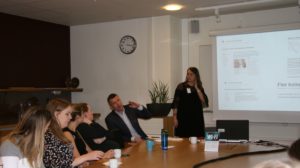 Since I am the only women at my department, I think it is important to highlight these kind of questions and engage in this issue. When I was young, I had no connection to engineering through family nor friends. Therefore, it took a long time for me to understand what an engineer actually does. I think it's important for youngster, especially girls to meet female engineers to get some kind of role model. It is very exciting to be a graduate engineer since these type of tasks are part of my daily work. J
Next week, Philip and I are going to Germany for a study visit but I will tell you more about that in my next blog post!
/Signe