Time for placement update!
Time for placement update!
Hello!
I hope you all are staying safe out there! I believe I speak for most of us when I say I am more than ready for this to be over so we can all return to work at our awesome site.
This week the annual event of selecting new graduates here in Sweden took place and it is safe to say that all of us soon to be old graduates got a real reality check on how fast time surpass here at GKN. I mean it has already been a year since we were sitting on the opposite side of the table ourselves. Anyway, it was a lot of fun being a part of all the events and meeting the candidates for the upcoming graduate scheme.
Since last time I was here a lot has happened in my personal journey within the graduate program. Just after the Christmas holidays I jumped from the quality department to project management of NPIs (New Product Introductions). Already from early days this was a rotation I knew I wanted to do. I believe that being a part of this "grey zone" when everything is still uncertain is the best place for learning. In combination with all the different functions and people you meet on a daily basis it seemed like a great opportunity for me.
My rotation itself is sort of split into two parts. One where I am working on a project to see how we can enhance learning in the project management process. The project will seek to see whether there is another way that we can identify, document, and reusage knowledge within and between projects. The other part of my rotation is to be involved and support with different tasks in an ongoing NPI project. The NPI project is a fabricated fan case mount ring which will be included in Pratt & Whitney's PW1000 engine family (see picture). Perhaps a fan case mount ring doesn't sound too exciting but when it involves additive manufacturing I believe everything gets exciting. My tasks have been aligned with my interest in the field of quality as I have been driving the work for the PFMEA (process failure modes & effects analysis) which essentially is a preventive risk analysis to detect risks before they occur.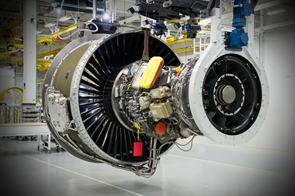 That was all until next time. In the meantime, take care!
// Robin