Fighter jets and satellites
Fighter jets and satellites
This Monday, four of five young graduates were out of office again. This time we took the Super SAAB (in contrast to the Racer Renault) to Såtenås and Skaraborgs Flygflottilj F7, one of the bases of the Swedish Air Force. We were well received by Gerhard. After a short visit to the guard, we were allowed to enter the area and were taken to one of the facilities. We were offered coffee (an easy way to get happy graduates!) and were thereafter given an introduction to the organization. We learned for example that the military airport of Såtenäs were founded in 1940 and that all the Swedish pilots for the fighter plane JAS 39 Gripen are educated here.
When we had got all the theory it was time to go to the hangar and what we had come for – JAS 39 Gripen! As Anders wrote last week, we now have some knowledge in the RM12 engine that is used in Gripen, and it was very interesting to see where the engine is placed in the aircraft. Our guide told us everything worth to know and answered our many questions the best he could. It is clear that Gripen holds a lot of power that demands a lot of its pilot, even if they are more of system operators than actual flyers. The retirement age of a pilot within the Swedish Air Force is 55 years and not all of them work that long due to the physical demands. We also saw the armament of Gripen and a small strategic discussion about defenses. If you want to read more about Gripen, you can read it here.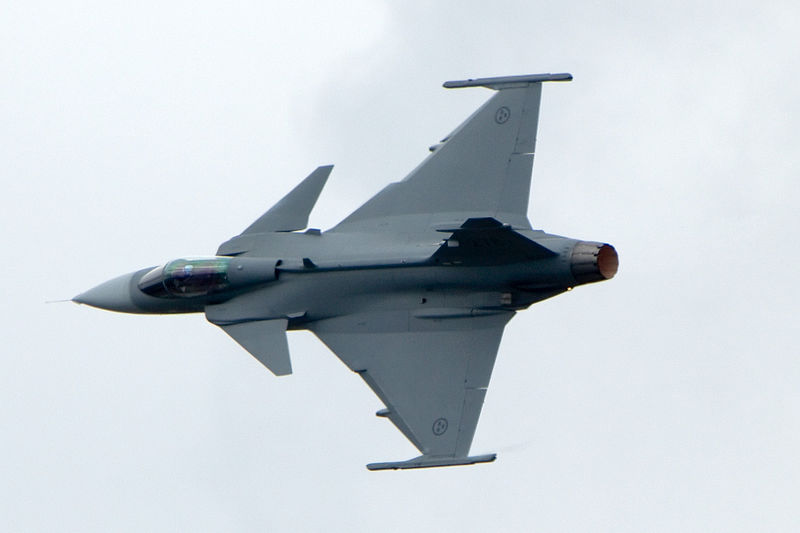 After the guided tour in the hangar, we also got to see one of the controls where the aircrafts are prepared and controlled before take-off and after landing. The visit was ended with lunch together with Gerhard and some pulse-pounding looking for one of the young graduate's car key, which were found on the parking lot outside of the guard. Exactly who of us that was this clumsy, will remain untold…
We thank F7 and Gerhard for a very interesting visit and can strongly recommend you a visit if you ever get the chance!
As an extra little treat today, we would also like to tell you about the probe Philae which this afternoon will land on the comet 67P/Churyymov-Gerasimenko. Philae is to be sent from the satellite Rosetta which were sent out in space ten years ago and has since then been working to meet the comet at the right position. You can read more about Rosetta and Philae here, where they also will telecast the landing this afternoon.